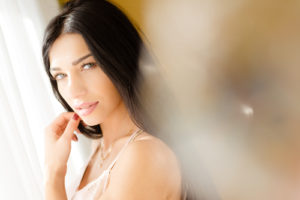 Fillers, also known as Dermal Fillers, can enhance contours, soften facial wrinkles and folds, add volume to lips, and give patients the youthful facial fullness they've been missing. Fillers can offer many of the same benefits as a traditional surgical facelift or surgical fat transplantation but at a decreased cost and with minimal downtime and risk. Results are immediate, and patients can return to work and social activities the same day with virtually no restrictions. Fillers are not permanent and do require periodic re-treatment to maintain the result.
How do they work?
The dermal fillers, Juvederm®, Belotero®, Restylane®, Voluma® and Volbella® are based on hyaluronic acid (HA), a substance naturally found in the human body. Young, healthy skin contains an abundance of HA. As you age, sunlight exposure and other factors reduce the amount of HA in your skin. This contributes to the loss of tone and structure over time, adding to facial wrinkles and folds. Fillers are a safe, effective way to replace your skin's lost HA, add volume, and restore a more youthful appearance. Radiesse® is calcium based combined with a water based gel. It is effectively used in facial contouring for cheek augmentation, as well as to fill loss of facial volume in the temple area. Additionally, Radiesse is successfully used for hand rejuvenation. When combined, Radiesse and Hyaluronic Acids complement each other and together can achieve high patient satisfaction.



Sculptra® Aesthetic
One of primary reasons for visible signs of aging are loss of collage, a fibrous protein in the deep dermis that gives structure to skin and supports the functions of elastin and hyaluronic acid (HA). Elastin is an elastic protein that maintains skin shape, while HA cushions and lubricates to keep the skin hydrated. More collagen enables the presence of more elastin and HA. Sculptra® Aesthetic is an FDA-approved injectable that helps gradually replaces lost collagen — an underlying cause of facial aging — for results that can last more than two years.  Unlike most "fillers", the response builds slowly over time and lasts while others gradually degrade over months.  The result is more natural and lasts longer.
Benefits:
Increased facial fullness in a gaunt face
Create fullness in areas of fat loss or hollowness
Stimulate your body's own production of collagen
Virtually no risk of allergic reaction
Treatment Areas
Common areas for treatment with fillers are the nasolabial folds (the parentheses lines), the glabella ("11-lines"), the cheeks, the lower eyelid-cheek junction, the lips (for volume and filling vertical lip lines), and the marionette lines next to the mouth. Fillers can also be used to add volume to other areas of the face and to smooth fine facial lines and wrinkles.
What to expect during your consultation
During the consultation process, you will meet with the doctor to discuss overall goals. Next, the doctor will examine your skin, take a medical history, and develop a realistic treatment plan based on your goals. The doctor will also discuss his technique, associated risk, and recovery.
Kybella®
Are you bothered by fat under the chin, also known as submental fullness?  KYBELLA™ is the only FDA-approved injectable nonsurgical treatment that destroys fat cells under the chin to improve your profile. The active ingredient in KYBELLA™ is deoxycholic acid, a naturally-occurring molecule in the body that aids in the breakdown and absorption of dietary fat. When injected into the fat beneath your chin, KYBELLA™ causes the destruction of fat cells.
Once destroyed, those cells cannot store or accumulate fat. Drs. Wong and Garibaldi will determine how many treatment sessions you need based on the amount and distribution of your submental fat and your personal treatment goals. Most common side effects are swelling, bruising, numbness, redness, tenderness, and areas of hardness. Most patients say that the treatment is comfortable with only a mild discomfort in the beginning of the procedure. Kybella is a quick procedure that can be done on your lunch break.
Benefits:
Minimally invasive nonsurgical option
Permanent results
No anesthesia required
Quick with slight discomfort
No downtime
If you live in the Garden City, Long Island, area and are interested in learning more about Dermal Fillers, schedule an appointment to speak with one of the highly trained and experienced ophthalmologists at Ophthalmic Consultants of Long Island. We look forward to helping you look and feel your best.